Biography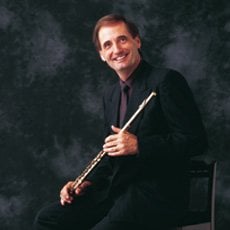 Praised by the press for his "soft, sensitive sound, perfect technique and his musical intelligence" flutist Dieter Flury has been called a "flute Paganini" thanks to his "phenomenal finger and breath-technique".
Solo flutist of the Vienna Philharmonic since 1981, and the orchestra's general manager since 2005, he enjoys a multi-faceted career as a leading soloist, recitalist, chamber musician, teacher, and orchestral leader.
Mr. Flury has performed as soloist with the Vienna Philharmonic on numerous occasions and made concerto appearances with the Vienna Symphony, the Zurich Chamber Orchestra and the New Japan Philharmonic. He is a versatile chamber music player performing regularly with the Vienna Wind Ensemble, Klangforum Wien, the Vienna Virtuosi, and at all the major Swiss and Austrian music festivals. In 2011, he toured the United States with his duo partner pianist Maria Prinz and performed at Carnegie Hall's Weill Recital Hall and CalTech in Pasadena. Edith Eisler of New York Concert Review hailed the duo as "deeply expressive" and "complete masters of their instruments", noting that "Mr. Flury played on a golden flute whose radiance was matched by its warm, round, shimmering tone".
Several of the world's most acclaimed contemporary composers have written works for Mr. Flury, including Beat Furrer and Herbert Willi. He has also collaborated with György Ligeti, Salvatore Sciarrino, and Hans Zender in preparing their works for performance. Mr. Flury's world premieres include the flute concerto of Uros Rojko, which he premiered with the Vienna Symphony Orchestra under Claudio Abbado as part of the Wien Modern Festival.
His numerous recordings have featured a wide range of composers, from Baroque to contemporary, including works of Bach, Telemann, Haydn, Mozart, Varèse, Scelsi, Berio and Halffter, and a recording of 20th century French flute music from the "groupe de six" period. Additional recordings include Mozart's Flute Quartets together with the Vienna Virtuosi, and "Morceaux de Concours", a compilation of French Competition compositions from Fauré to Messiaen.
In demand as a teacher, Mr. Flury is a Professor at the University of Music and Performing Arts in Graz, Austria, where he has taught since 1996. He has previously served on the faculty of the Vienna Music Academy and the Vienna Conservatory. He frequently leads master classes around the world, with recent classes in Europe and the Far East. Mr. Flury has served as Director and currently is a faculty member of the International Summer Academy 'Kurt Pahlen" in Lenk, Switzerland.
Mr. Flury was born in Zurich and studied with Hans Meyer, Principal Flute of the Tonhalle Orchestra Zurich, André Jaunet at the Zurich Music Academy, and Aurèl Nicolet. In addition to his flute studies, he was a student of mathematics at the technical college in his home town of Zurich from 1972 to 1976. At age 25, he was appointed a member of the Vienna State Opera Orchestra, and in 1981, he was named Principal Flute of the Vienna Philharmonic Orchestra. Combining his musical and mathematical expertise, he is the author of an essay on the mathematical foundations of music theory entitled "Axiomatic Theory of Tones".