How to get started on your electric violin by Max Grosch
How to get started on your electric violin by Max Grosch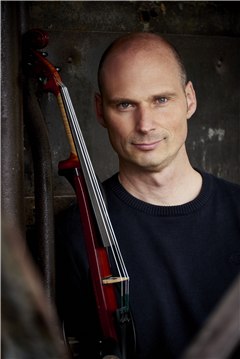 If you are a string player and are interested in trying out something new or are looking for a solution to practice without bothering your neighbours or loved ones, then this might be for you...
My electric violin has become one of my most fun companions on my path as a professional creative musician. One can play almost silently while hearing yourself as if in a concert hall through headphones. And at the same time you can open your practice routine up to a whole new world of play, creativity and sounds through effects, a loop station or a computer.
These pointers below are meant to help you get set up and ready to go with your electric string instrument!
- With your electric violin or cello unboxed, you might need to set up the bridge and insert batteries, if necessary. A tuner can help you get your instrument ready for action. Alternatively, ask your teacher or violin dealer/maker for help on that. With a bow and a shoulder rest, if needed, you are now ready to go.
- To play silently, inject your headphones into the appropriate inlet on the instrument or preamp, if it is set up for this. Alternatively connect your instrument to an amplifier with a jack cable or to an interface to play through your computer. In this way you can play loudly or again through headphones. connected to both of the above sources.
- If you plug into an effects pedal and a loop station on your way to the amp, so to speak, you can alter your sound by activating the effect and/or have fun looping yourself. This will be possible through apps on your computer as well.
- Work with the EQ settings to find a sound pleasing to you and apt for the style you want to play in. My advice: roll back the high frequencies a little, while you might add a little bass and reverb for a warmer sound.
- When playing electric instruments, you no longer need to dig in to the string quite as much as you might with your acoustic instrument, since you will then produce strong attack sounds through your speaker. If you can activate the low cut, this might help with reducing the attack 'crunch'.
- Further you can experiment with more articulation from the left hand with certain effects from your pedal (similar to tapping on the electric guitar) which enables you to play differently than with your acoustic fiddle.
- Rhythm techniques such as pizzicato, strumming like on a guitar, chopping or producing percussive sounds are really fun with these instruments, since you can adjust your volume level way more than just playing acoustically.
I hope this opens up the same world of fun for you as it has done for me and many others. For further advice on your electric playing look me up on YouTube.
About the author
Max Grosch started violin lessons at the age of 4 and throughout his career he has performed worldwide and shared the stage with musicians such as Vincent Herring, Kenny Werner, Junior Mance, Manuel Valera, Rufus Reid, Simone Zanchini, Nigel Hitchkock, Rick Margitza, Waldo Weathers, Christian Howes, Adrean Mears and many others.
As a teacher he gives countless workshops as a Yamaha Artist as well as trainings for music teachers and consults on the topic of 'creativity and focus'.
Max Grosch is regarded as one of Germanys leading forces in playing Jazz on a string instrument and is committed to taking the field of string improvisation forward through his innovative playing and teaching style.
How to get started on your electric violin by Max Grosch