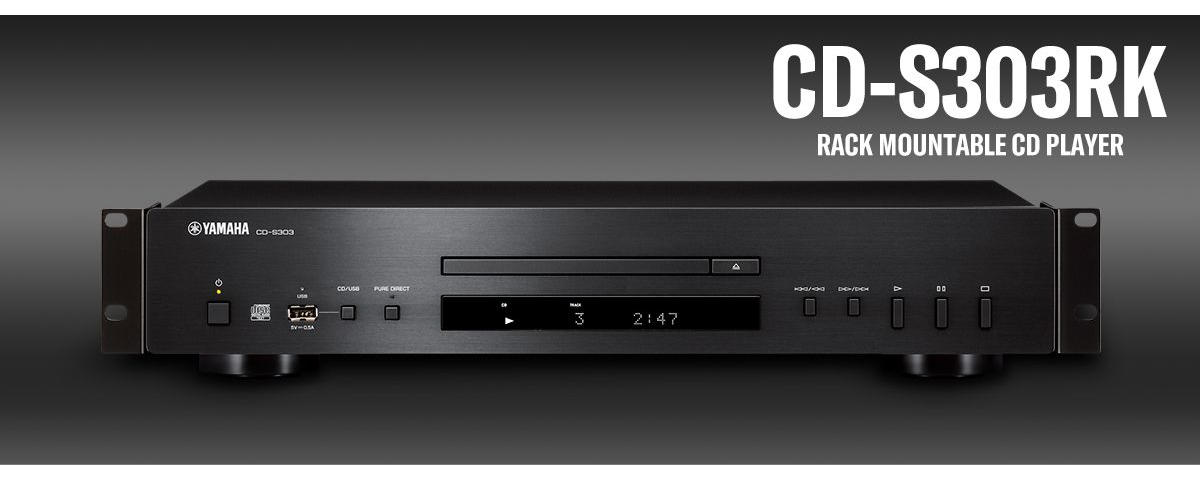 CD-S303RK
Rack Mountable CD Player
A professional rack mountable CD player for installations
CD-S303RK is a professional rack-mountable CD player that supports music playback via CD and USB memory devices, offering simple operation with high quality sound. It features "Play mode memory" and "Ready Mode" that are convenient for use in events, stores, and various installation application.
Pure Direct
The CD-S303RK offers Pure Direct, which is the same popular feature included in Yamaha amplifiers and receivers. By pressing the button on the front panel or on the remote control, it shuts down the digital audio output and turns off the display. This achieves the lowest possible noise interference and, therefore, the highest sound quality of the analog audio output.
Extremely Sophisticated Circuitry and Layout
Yamaha technicians devoted a great deal of time and effort to designing the overall interior layout of parts and circuit boards, a factor that significantly affects sound quality. As a result, the power supplies for the motor drive, display and USB sections, as well as the digital, and analog sections are individually isolated, eliminating electromagnetic interference among them. To achieve ideal weight balance for stable performance, the drive mechanism is located in the center of the unit.
Short Signal Paths
The highly logical and symmetrical internal layout of parts and circuit boards are designed to keep the signal paths on each board as short as possible. This purposeful design also keeps the paths between sections straight and short, minimizing the chance of signal loss or interference, something not easy to achieve.
Well-Matched, High-Quality Parts
Each of the individual elements in a CD player influences the sound quality, which is why Yamaha puts a great deal of effort into the selection and matching of parts and materials. A high-grade acoustic capacitor, a new low-noise, high-gain bandwidth op amp and the use of damping material under the transformer and around the signal cables are just a few examples of the Yamaha commitment to great sound quality. In short, the CD-S303RK's internal sophistication is on a level generally found on much more expensive models.
High-Performance D/A Converter
Utilizing a 192 kHz/24-bit DAC, the high-performance D/A conversion system takes full advantage of the digital technology refined by Yamaha over a period of many years, ensuring excellent conversion precision, S/N ratio and dynamic range.
Laser Pickup Floating Mechanism
The laser pickup is isolated on a floating mechanism so its delicate operation cannot be affected by vibration.
Intelligent Digital Servo
Conventional tracking servo circuitry cannot completely overcome errors caused by a warped disc, dust and other defects. This system uses a dependable DSP (Digital Signal Processor), exclusive for CDs, to monitor the signal, adjusting pickup tracking and focus, as well as spindle motor speed, to compensate for any problems.
Enjoy Your MP3, WMA, LPCM, AAC and FLAC Music
The USB port on the front panel gives you an easy way to enjoy high-quality sound from MP3, WMA, LPCM, AAC or FLAC digital music files stored on USB memory devices. You can also play files recorded on CD-R/RW discs.
3-Mode CD Text Display
Information about the currently playing CD is shown right on the CD player's display. The 3-mode CD Text display shows the CD's title, the artist's name and the title of the track.
Program Play (Audio CDs Only)
It's extremely easy to program the tracks you want to hear in any order. You can clear the program at any time with a single touch.
Other Notable Features
- 10-Key direct track and direct access
- Random play
- Repeat play (full/single)
- 3-Mode time display
- 4 Illumination levels
- Last track resume
- Ready Mode
- Play mode memory
CD-S303RK
Rack Mountable CD Player
The CD-S303RK compact disc player rack from Yamaha offers high sound quality and easy operation. Along with special Yamaha features such as Pure Direct, Intelligent Digital Servo and USB compatibility.
Az ábrázolt színek és felületek eltérhetnek a termékek színeitől és felületeitől.