Yamaha celebrates a remarkable contribution to music with the Nils Landgren limited-edition YSL-893ZD trombone
Yamaha celebrates a remarkable contribution to music with the Nils Landgren limited-edition YSL-893ZD trombone
A Yamaha artist for more than 35 years, Nils Landgren is one of Europe's best-known and most innovative jazz trombonists. Now Yamaha celebrates Landgren's remarkable contribution to music with a special, YSL-893ZD Nils Landgren trombone. Limited to an edition of just ten instruments, each one is played and tested by Nils himself, supplied with a signed certificate and engraved with its issue number.
The trombone features a gold lacquer finish, detachable yellow brass bell, dual bore slide, detachable lead pipe, nickel silver inner and outer slide and a yellow brass, narrow pitch slide crook. The mouthpiece is the artist's own Nils Landgren Signature Custom GP.
Key features: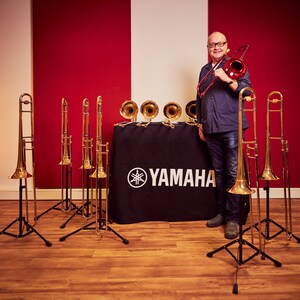 • Detachable yellow brass bell 190.4mm (7 1/2")
• Dual Bore Slide 12.70-13.34mm (0.5-0.525")
• Detachable Leadpipe wide and open taper for free blowing and lot of depths in sound
• Inner & Outer slide Material Nickel Silver
• Slide Crook narrow pitch made from yellow brass
• Gold lacquer finish
• Mouthpiece: Nils Landgren Signature Custom GP
• Engraved with its issue number e.g. 01/10
• Certificate signed by Nils Landgren
• Supplied without case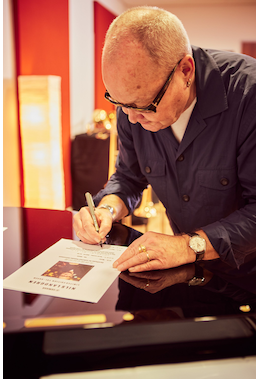 After studying classical trombone at the music college in Karlstad and the University of in Arvika, Landgren's varied career in music has seen him touring with Swedish pop star Björn Skifs, playing lead trombone in Thad Jones' big band project 'Ball of Fire' and playing on hundreds of albums by musicians as diverse as ABBA, The Crusaders, Eddie Harris, Bernard 'Pretty' Purdie, Wyclef Jean and Herbie Hancock.
Recording his first solo album in 1984, Nils was subsequently discovered by leading European jazz label ACT, releasing 30 albums on the label as lead player, and contributing to, or producing, 20 more. A long-time collaborator with the NDR Big Band in Hamburg and Bohuslän Bigband in Gothenburg, Nils has also acted as Artistic Director for the prestigious German festivals Jazzfest Berlin and Jazz Baltica.
A passionate believer in the power of music to do good in the world, Nils' band Funk Unit collaborated with the charity MSF – Doctors Without Borders – in a project called Funk For Life to bring musical instruments into schools in Nairobi, Kayelitsha in Cape Town and Soweto Johannesburg. A lifelong commitment for the Swede, Nils is now focusing on helping young men and women who are in need of financial support for their studies, to build a better future for themselves and their families.
Landgren has been decorated with two medals from King Carl Gustaf in Sweden; 'Letteris et Artibus' and 'Medaljen för tonkonstens främjande', and with the German 'Bundesverdienstkreuz' by Bundespresident Frank Walther Steinmeier. He is a Doctor at the University of Karlstad and Professor at the Hochschule für Musik und Theater in Hamburg.
Commenting on the occasion, Yamaha Artist Relations and Product Specialist Timo Hänf says "Yamaha is proud to recognise the contribution of such an extraordinary and generous musician as Nils with his own, limited-edition, signature trombone".
The Yamaha YSL-893ZD Nils Landgren Trombone is supplied with the Nils Landgren Signature Mouthpiece.
The instrument goes on sale on January 10th, 2022.
Yamaha celebrates a remarkable contribution to music with the Nils Landgren limited-edition YSL-893ZD trombone